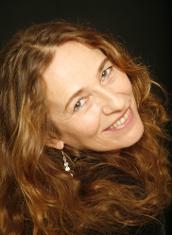 My Approach
I love assisting the healing process on all levels, using my skills and intuition with compassion, mindfulness and positive intention.
I like to encourage the recipient to let go and simply surrender to receiving, just observing. When fully realised that there is nothing to do, no need to hold any muscle or thought, a state of peaceful harmony is achieved, and healing happens.
Therapist training
Coming from a family of performing artists, I learned to play musical instruments and always loved to dance. Later I chose to channel my creativity in the healing profession, obtaining my first ITEC diploma in Anatomy, Physiology and Holistic massage in 1998, followed by a diploma in Sports massage and Ayurvedic massage.
A desire to deepen my understanding of Physiology and the body's subtle energy systems led me to explore various healing methods from widespread sources. Fascinated by the ancient, extensive knowledge of Eastern traditions, I learned and studied traditional Thai Yoga massage, Ayurvedic heated oil massage, Reiki and Indian Head Massage. As the learning process is never completed, I am continuously updating my skills for most effective results.
Dance
I am a qualified teacher for Movement and Dance / Dance Fitness since 2001, with a background in Contemporary dance and a passion for expressive free-flow dance improvisation as well as Lambada-Zouk. I love to lose, or rather find myself in a lyrical, creative no-mind state expressing my existing through movement as a form of meditation - being in the present.

And I find great pleasure in inspiring others and sharing the joy of this liberating experience. I facilitate dance workshops, fusing Laban based technique exercises with free-style, visualisation and creative playfulness, inspired by imagery and music. (for more details see 'movement-dance workshops')
Karina Messer 07854807067